WHOLE LOTTA FUN!
Pameroo's and Nataroo's day of "a whole lotta clean plain fun" ;)
Todo comenzo el Sabado en la mañana con una llamada deseperada de mi querida

Pameroo

,

(who was kidnapped by her Carlos, n was now free and all to myself, since he was at Portillo)..

la cual me levanto para contarme sobre la estreña forma en la cual se habia despertado, lo cual era un poco "ironic" en verdad, ya que ella me estaba despertando a mi, pero no le dije nada, ya que valio la pena. Asi que decimos tener un bello dia de relaxin' fun in da sun, y cojimos para El Country.

Despues de una buena hartura, la cual hasta mala me puse.. k ni podia entra en la piscina porque me puse tonta de la hartura, y ver par de cosas raras, y escuchar un viejo hablar con una voz de dolor por par de horas.. n gettin a nice tan.. n some refreshin' air.. Pame nada mas me miro y me dice

"Nat y k vamo hace hoy?"

.. Y como todos los otros post asi es que comienza todo..


Asi que arrancamos para mi casa, donde chiquito y pamela tuvieron una conversacion bien profunda, y yo fui añoñar a mi mama hehhe, y cojer par de cositas, ya que Pamela taba sola, it was bound to be a good nite.. y asi mismo fue..


Bueno yo no voy entrar en detalles en verdad.. pero si se que se gozo vamos a dejar que las foto hablen por si solas..
Bueno yo estaba de lo mas normal, en mi casa y veo esta foto.. oh!! como asi.. despues fue que todo me vino y me acorde a que se debe la foto.. en verdad no tiene ninguna explicacion logica.. sino que yo pase por ahi y veo este ramito.. y le digo a pame "look I'm da cesar".. ahora bien.. a que se debio eso.. quien sabe.. yo solo se que en el momento yo estaba en busqueda de una copita que yo tenia por ahi con algo bien rico llamado segun Dominique

"jugo de uva"

aka so called wine ;)



"Ay nathaly yo soy bello.. midame.. midame.. ay dios mio.. pada mi hi5"


dilo con un acento como frances mezclado con scottish, pero con altura, esa es la voz de Paco.



me and ma pameroo

Sooo... we opened a bottle of wine.. and well.. yo cometi el error de dejar la camera cerca de pame.. and look what I found this morning..
Yes once again.. Pameroo was on fire!!.. hahaha



then gurla came in the room.. she arrive just in time.. antes de k pame y yo nos convirtieramos en "uvas"..



lot's n lots of lub



miguel's special recipe



'n the victims


we got into our

"batmobile"

- or something like that

gurla como es k lo llamas otra vez?... "the limorador"??..



Yo solo se.. que somehow we ended up in

"MOON"

..


..ahora como yo termine alli, only god knows.. porque de verda I have no clue whatsoever *la nata mira para arriba n whistles*



..and pamela just go happier..




and happier..




and I got happier..




and happier.
then I got umm kinda frisky
mmmm k traguito ni ma bueno
gurla gettin her grooove on

(uju she be lovin that regueton ahaha)





"mami pero tu ta buena"




"ay si yo se jijijiji"

- miguel ahi de freco, bucando k lo partan
n then gurla came n she was like no no that MY MAN!! - gurla n her mannnn..
"klk ta pasando?? what is this?? y eta musica?.. yo no bailo regueton!.. how did I end up here??"


yes Pame.. yo no se.. yo tampoco entiendo..



grrrrr! let me at him! let me at him!!
-Yes pame got kinda frsky too-



"uhhh yes!! carlos ta pa portillo!! yes! yes! yes!"


depue al minuto -

"ay mi miss him =("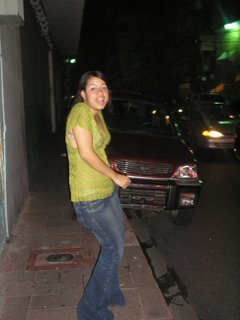 uhh pump that jam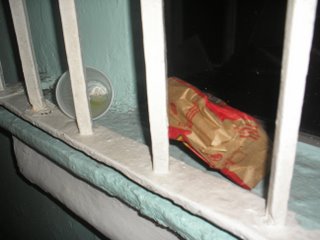 (I think this belongs to pamela.. pero no se.. shhh no le diga que yo le dije ok)
Pero de verda.. parece que yo tenia hambre.. pork no se de donde salio esa foto..



"the haunted house"

- segun pamela



esta foto en verdad creo que habla por si sola




tabamos en camino para

OM

.. n we passed our old beloved abacus..
-a minute of silence please for our abacus-
*sigh* oh memories..



uju.. u go girl!!.. yes shake that sauce!

Asi que despues de una buena jartura.. pa la casita..


I knocked out..

and Pame well I think the pics speak for themselves.. ahm ahm..


THE END
Asi que gracias a Mr. Carlos da casual, por dejarme a mi Pameroo pa mi solita ete finde.. Pame ma loove I was missin u... como k vamos a tener k repetirlo.. hehehe.. and gurla!.. giiiiirl u can dance!!.. hahahahahaa.. Asi que asi concluimos nuestra noche of a "whole lotta clean fun".. con una buena jartura.. and paco as the star.. hehe ;)